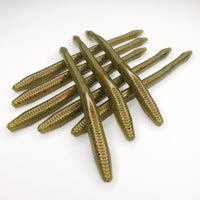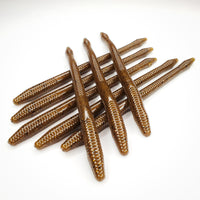 SixTwo Worm (Handpour)
If you fish heavily pressured waters, you probably are probably throwing the same baits and colors that everyone else is using. You are seeing the same results and not getting any type of advantage. We had the same frustration and it drove us to develop a worm that would help give that extra something you need. 
The SixTwo worm is poured in-house using a proprietary blend of soft, neutral buoyancy premium plastic. On the fall, the SixTwo's tail stands up and gently sways with any type of current or movement of your line. It doesn't sink straight to the bottom - it maintains an upright position that draws increased attention from bass on open bottoms, brush piles, and other structures. 
The SixTwo is 6.25" long and .4" at the widest point - so it has a beefier profile to attract larger bites.
The specific colors were developed to take traditional colors to a different place. Many use color shift pigmenting that alters the appearance of the worm depending on the direction of the light source.  The SixTwo Worm also features a proprietary scent profile that will have fish craving the taste of these worms. 
8 Per Pack
Custom runs and quantities available. Please contact us directly.